Submitted by: Marilyn Ann Verna, Ed.D.
Ancestor / Family Name: Camillo Verna
Ancestral Town: Ferrazzano, CB, MOL
As a genealogist I was able to trace my grandfather's lineage back to the mid-1600s.  Although I have a plethora of data on Camillo Verna, I really do not know who he really was as he died when I was a young child.  What I have accrued about his life are bits and pieces of stories told to me by my relatives.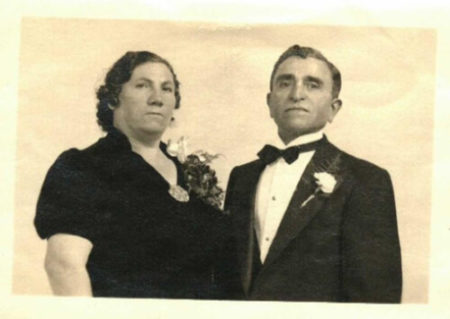 Poppy, as we called him, was born on May 10,1876 in Ferrazzano in the province of Campobasso, Molise.  Actually it was Abruzzo when he was born and died.  His parents were Evangelista Verna and Serafina Cipolla both from Fara San Martino, province of Chieti, Abruzzo.  They had seven children but only three boys lived to adulthood. In Ferrazzano, Serafina was the caretaker of the linens for the local church, Santa Maria Assunta. Camillo, as a young boy had the job of climbing the bell tower to ring the bells.  He took this deed very seriously.  One day when climbing up the ladder he heard noises above.  Trying to be brave he continued on not knowing what lied ahead.  The suspense increased as he drew near the top only to find a cat rustling among the leaves.  What a relief!
While growing up in this small hilltop commune, he learned the art of shoemaking, a trade which sustained him throughout his whole life.  In 1897, he was called into the military.  Being of small stature, he did not meet the height requirement, so he was given a deferment twice by the army doctors.
Researching, I discovered that in May 1899, he and a friend, Innocenzo Cerio – also from Ferrazzano – traveled to Rotterdam, Netherlands to board the ship called the Rotterdam sailing to New York Harbor arriving at Castle Gardens.  He lived at 234 Elizabeth Street in Manhattan and worked at Tull and Gordon Shoemakers in Brooklyn.  He immediately learned English and studied U.S. history and signed his Intention for Naturalization in 1907. He married Adelina Notartomaso from Campobasso on November 11, 1908. The family does not know for certain, but we think they knew each other in Italy as her parents Giovanni and Europa originated in Ferrazzano. In fact, Camillo and Adelina lived with her parents in Brooklyn on Raymond Street (now Ashland Street) according to the 1910 census. Camillo became an American citizen in 1910 after his first son – my father – Evangelista was born. By 1915 Camillo moved his family to Elliott Place in the Fort Greene area. The family increased to five with my father – now called Angelo – and brother John and sister Fay. By the 1920 census, the Verna family is living on North Oxford Street where they remained for some 20 years. Camillo and Adelina had four more children – Joseph, Mary, Guglielmo and Rose. Unfortunately, Guglielmo died of purpora at age three in 1924 and Rose died of heart failure right after high school graduation.  The death of his children was extremely difficult on Poppy.
In 1941, the city took over the homes in Fort Greene for a housing project.  My grandfather moved his family to Bensonhurst, Brooklyn.  Poppy was very practical.  He purchased a two-family house at 1821West 9th Street near a subway line so that his children did not incur a double fare to go to work.  My parents lived on the upper floor with my sister Elaine. This is where we lived when I was born.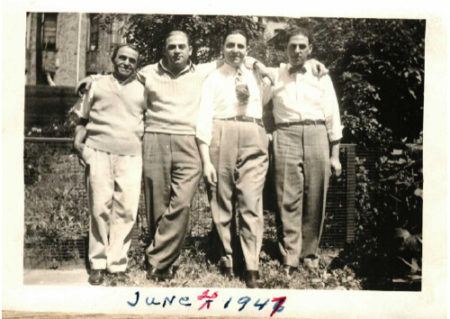 We had the traditional Italian American two kitchens.  The first floor was used for bedrooms and the finished basement became the daily living quarters.  I vaguely recall the pianola where Poppy played the music rolls.  One could say this was a precursor to punch-hole machines and computers.  I do remember the extended family – aunts, uncles and cousins of all generations visiting every Sunday.  As children, my cousins and I were given dollar bills from our uncles.  Poppy was a family man and enjoyed the company of his relatives.  I was told by my cousin that he was soft spoken and never argued with my grandmother except for one occasion.  When he realized that his two daughters were in the next room and overheard him, he became physically upset and apologized to his wife and children.  He loved my mother because like himself she was quiet and non-confrontational, the type who could truly keep a secret. Poppy always spoke standard Italian at home while my grandmother spoke their dialect.
Poppy was a gentle man and philosophical in nature as he was a self-learned man, introspective, wise and ethical. He displayed personal traits that family members recall: he enjoyed his morning espresso with a chunk of Italian bread; he would chew his food 20 times to insure proper digestion; he could peel fruit in a continuous circle, its skin so thin it was almost transparent. He enjoyed the Italian operas and would listen to the broadcasts on the radio. When my family purchased a new invention, a television set in 1948, Poppy would come upstairs to our living quarters. He took pleasure in seeing his favorite conductor Arturo Toscanini lead the NYC Symphony Orchestra.
I have a vivid picture of Poppy lying in bed when he became ill. He was transferred to Kings County Hospital where he passed away on April 30, 1949. My aunt Fay fainted when the dreaded telegram arrived notifying the family of his death. Poppy died at age 73 and lived to know all his grandchildren.
My cousins and I grew up in a close-knit family which has remained so to this day. I am sure Poppy is pleased to see that.