Submitted by: Gail Durazzi Barbadora
Ancestor / Family Name: Giuseppe Durazzi
Ancestral Town: Senigallia, AN, MAR
My paternal grandfather, Giuseppe Durazzi, was born in Senigallia, province of Ancona, in the Marche region of Italy on September 25, 1878. He was one of four children of Alessandro Durazzi and Elisabetta Chiappa. He made two trips to America. The first was on June 4, 1904  on the ship Citta di Torino.  Upon arrival he went to live with his friend Alfredo Torreggiani in Alpha, New Jersey. He spent ten years in America working at various jobs in order to send money back to his family in Italy. For a time he traveled across the country and worked as a cook in railroad camps in the Pacific northwest and British Columbia.  He returned to Italy and married my grandmother, Amalia Serafina Badini, on March 15, 1914. They returned to America accompanied by grandmother's brother, Amadeo Franco Badini, arriving in New York on April 11, 1914 on the ship Cincinnati. They settled in Phillipsburg, NJ.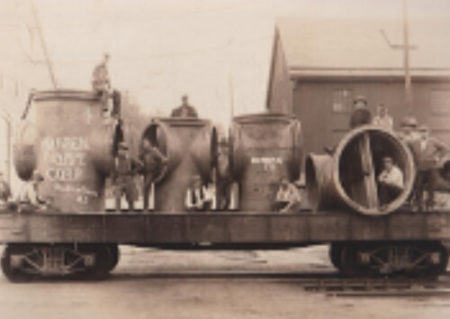 My grandfather worked in cement mills and at the Warren Foundry in Phillipsburg. The foundry was known for making caste-iron water and gas pipes.
My grandparents had four children, all born in Phillipsburg: Aurelio Joseph, born February 20, 1915; Lena, May 18, 1916; Laura , May 27, 1917 and Elizabeth, September 7, 1929. During the influenza epidemic of 1918-1919, my grandfather helped the local undertaker collect the bodies of victims. In 1928 when my father Aurelio was in high school, my grandfather and he started a grocery store in the front of their house. The store was a family undertaking with various members  assisting. Initially my grandfather helped when he could but continued his job at the foundry while my father worked in the store after school, and my grandmother stayed in the store during the day.  After my father graduated from high school he worked in the store for the next 55 years.
 Joseph Durazzi & Son
Despite never quite mastering English, Nonno as we called my grandfather got by quite well. A young grandson who worked in the store dusting shelves remembered his commenting "eeza look a hundreda percenta better". Nonno was very family-oriented. When one of the grandchildren was sick, he went to visit. He loved when all his children, grandchildren, and three great-grandbabies visited.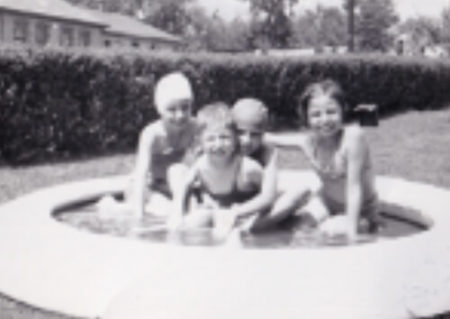 In the late 40s Nonno bought the first kiddie inflatable wading pool in the neighborhood and set it up in our back yard for my sister, brother, me, and our two cousins who lived across the street. Friday evenings his three daughters and grandchildren would come to grocery shop and visit. The children got a Walking Liberty Silver half dollar each from Nonno to spend on candy. I remember him soaking and cooking baccala, stoccafisso (codfish), lupini beans, and lumache (snails). He loved to smoke Italian stogies and watch Friday night boxing on TV. He enjoyed visiting with friends and having a glass of vino and biscotti with his compari, Joseph Becci and Nazzareno "Jumper" Giampieri.
He would occasionally go to the local Italian club to play bocce.  He liked to read the Italian paper, "Il Progresso", and loved his wine even though he was not supposed to have it because he had high blood pressure He died on December 17, 1967 at age 89.