Submitted by: Michael S. Genovese
Ancestor / Family Name: Giuseppe Nicola Trentalange
Ancestral Town: Campobasso, CB, MOL
My maternal grandfather, Giuseppe Nicola Trentalange, died in 1927 when my mother was 13 years old.  As a child I saw photographs of him with family members. On several occasions my mother would tell me about what she knew and remembered about him. Over the years she revealed stories and special happenings to form a "living memory" of my grandfather for me. Those stories plus further research on my part and one or two artifacts have helped me discover more about my grandfather.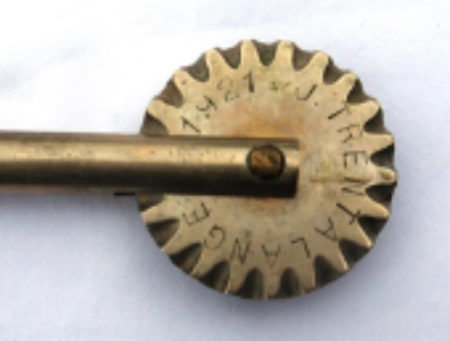 Instead of writing about all the details of his vital records, I would like to convey what I have learned about my maternal grandfather because of two man-made items that have been passed down to me, my sister Maryann and brother Francis.
The first item is a man-made ravioli cutter that was designed and put together by my grandfather. It is simply made, has his name etched on it, and the year it was made, 1921. My grandfather was very creative, skillful and practical. He made use of what he had…taking two pieces of metal, shaping them and fastening them together as a useful tool for my grandmother to cut ravioli squares into the rolled-out dough. Stories told me by my mother have added layers of information onto the cutter, revealing that he worked as a tool maker in a manufacturing shop that employed Italian immigrants like those from his ancestral town, Campobasso in the Molise region.
The second item is even more telling, a rocking chair that was recently returned to our family from my mother's cousin. The rocking chair was made by my grandfather as well. My mother remembers that chair very, very well. She recalls her father rocking in that chair one morning as she was walking down the stairs. She saw him crying and sobbing. Tearfully he told her that her mother had died.
After my grandfather's death, the chair, along with other household items, were passed on to different members of the family since my mother and her two brothers and two sisters, now orphaned, moved to live among various relatives. Not until recent times at a family reunion in 2000 was the chair given back to my mother. This was before she died. The rocking chair now sits in my sister's home in Connecticut and when I visit her, the chair is a visible reminder of my maternal grandfather who died before we were born.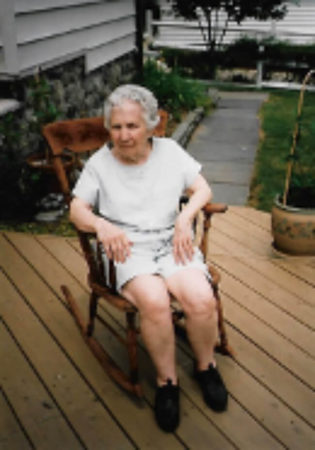 I am 77 years old now and even though my maternal grandfather died over 90 years ago, I feel that I know him. I can "touch" him in two simple ways because of these two artifacts. I am very grateful that I have two  tangible items to keep his memory alive.
It was kept in the Santoro family after our grandmother, Marianna Santoro Trentalange died . It stayed in the Santoro family since then. It was given to mom by Vickie Santoro Maggi. Vickie was in possession of it until the 1990s.
I believe it is made of brass, Waterbury brass of course. The handle of the fluted cutter is heavy and is fastened to the cutting  wheel  by a brass rivet. Stamped onto the fluted ravioli cutting wheel  is " J. Trentalange, 1921).