Submitted by: Natalie Aurucci Stiefel
Ancestor / Family Name: Rosario Aurucci
Ancestral Town: Corleto Monforte, SA,CAM
The year was 1920 when my father, Rosario Aurucci, at age 18 immigrated to the United States. That day, when he left his ancestral home, his mother told him to love his new country with all his heart.  He took that advice seriously as he became a patriotic American citizen, served as a Staff Sergeant in the historic 13th Regiment of the National Guard during World War II, an air raid warden and chartering and volunteering in over 30 worthy and patriotic organizations during his lifetime.  As a stone mason and artist, he volunteered to teach his trade to youngsters and he restored the historic 1902 Guglielmo Marconi wireless radio building.
Dad's roots in his home town of Corleto Monforte, in the Provence of Salerno, had much family history.  His maternal "Salamone" family settled in that town as early as 2,000 years ago and his paternal "Aurucci" roots were established there in the year 1400.  There is a history book reporting members of our family who served as Mayors and other various officers.  History books record my great grandfather, Nicolo Salamone, serving as a Captain in Garibaldi's Army when he marched into Rome with the King and Garibaldi. The book mentions that Spartacus and his run-a-way slave army passed by the village.  In anticipation, the villagers left food, provisions and livestock outside the walls to feed the slave army and it appeased them to go their way without raiding the village.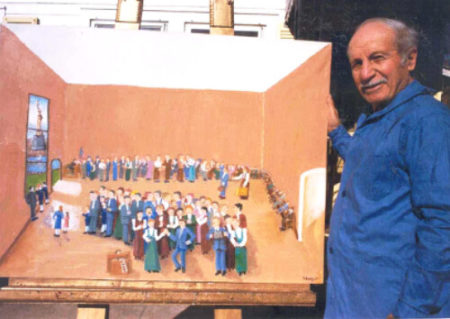 The day my dad arrived in Ellis Island, his sister was not there to greet him as she thought he was arriving at another date. Some of the immigrants who were waiting were assigned to stay overnight in a caged-in area. During the evening, my Dad let himself out into the grand hall where he met other immigrants. A Frenchman played an accordion and an Irish girl signaled Dad to dance and that's how they spent the rest of the evening. When my Dad was 80 years of age he painted that scene. That painting is on display at Ellis Island. The next day, an Ellis Island officer pinned Dad's sister's address on his lapel and told him to walk uptown. He showed the address to various people along the way and they kept pointing uptown. Dad walked from the very bottom of Manhattan Island right up to Italian Harlem. One can only imagine the amazing sights this young Italian immigrant saw along New York's amazing way. When his sister, Beatrice, saw him at the front door she was surprised that he found his way to her home.
My Dad returned to Italy in 1939 to visit his parents. While he was there, the war in Europe broke out.  He had to go to the local United States embassy for protection as a United States Citizen and they arranged to get him out of the country. As an Italian-born, he would have been forced to serve in Mussolini's Army. He said a hasty goodbye to his parents. His last toast to them was "until we drink wine together in God's Kingdom". He never saw them again. When I accompanied Dad for a visit to his birthplace in 1981 for his 80th birthday, we heard stories from his cousins about World War II. During the war his cousin heard that the Nazis placed dynamite on a long mountain bridge where the American troops were planning to cross the next morning. Cousin, Giovanni Aurucci, removed that dynamite and became a silent hero of the war.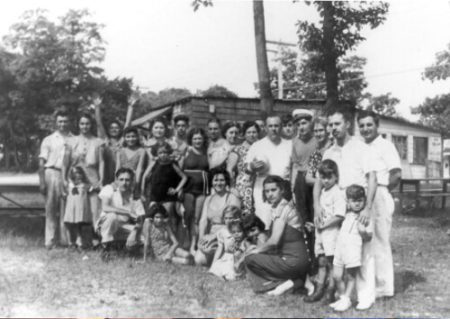 Italian families are known for continuing their traditions and loving their ancestry and my sister, Stella and I grew up in Williamsburg, Brooklyn in two wonderful worlds. We loved watching our grandmother, Natalia, and my mother, Mildred, hand-making those delicious raviolis and finding tablecloth space all over the house to let them to dry. My grandfather had the local barbershop, an uncle ran his grocery store, another uncle peddled vegetables with his horse and wagon, another uncle ran his shoe store and one was a fine furniture maker. Everyone joined in making their way in this wonderful new country.  I remember those fantastic Aurucci-Marzano family summer picnics in the early 1940's at Bayville and Oyster Bay including extended family of all ages. Our family didn't bring hot dogs and hamburgers as we had big bowls of macaroni with meat balls and sausages, roasted chickens, fruit and we shared it with other picnickers who did not bring their lunch. We sang songs and my uncles would act out comical theatrical skits.
It was twenty-five years ago when I met June Delalio at an Historic Fair. She was organizing a genealogical group to research Italian ancestry. June and John Martino created the foundation of this beloved and dedicated group. In September of 1994 the Charter group included Marie and Gene Capobianco, June DeLalio, MaryAnn Horn, John Martino, Gloria Musante, Robert Sisco, Robert Mills Smith, Albert Zani, Daniel Tonery and Natalie Aurucci Stiefel. I served as first Treasurer in the year 1993 BC (Before Computers). I joyfully served for four years and another term as Corresponding Secretary.
We are all on an ongoing quest to find and celebrate our ancestors.  May we continue on our journey to meeting them back in time.