Submitted by: Paul Guarino
Ancestor / Family Name: Antonino Guarino
Ancestral Town: Bisaquino, PA, SIC
My grandfather was born in Bisaquino, Sicily in 1896.  Sicily, like most of southern Italy after the unification of Italy, was especially hard hit when it came to its economic future. This led to a huge migration of people to America.  My family was no exception with almost everyone making the journey in the beginning of the 20th century. Antonino, or Pepa, as he was known in our family, was my grandfather and played the drums starting at a young age and came over when he was 18 years old. He lived in New York City with his older brother Francesco and sister Rosalia who came over earlier.  His younger brothers, Salvatore and Philippi, still lived in Bisaquino with their parents. When World War 1 broke out, he enlisted in the U.S. Army where he was assigned to the 12th Field Artillery as part of the drum corps. Back in Bisaquino, Salvatore and Philippi joined the Italian Army in the battle against the Austrian-Hungarian Empire as well.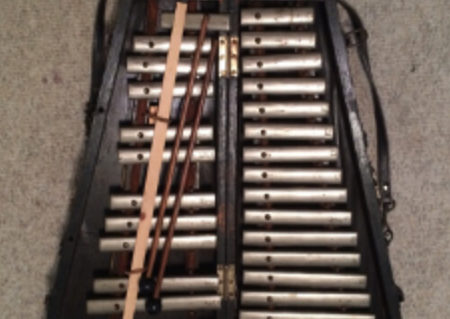 Growing up, I was always told that Pepa was in World War 1 and played the drums. I had seen a few pictures of him in his "doughboy" uniform, as well as his xylophone (which everyone in my family called "bells" since it was easier to say) that my grandmother had at her house. He marched with his bells in the Great War, and kept them his whole life. The back of every key was filed to the exact pitch and they still sound the same as they did so long ago.  Since there keys are made out of steel and the box out of wood, it weighs 30lbs. When I would ask my father, who was named after him, where Pepa was during the war, he knew very little since Pepa chose not to talk about his time in the service.
After my grandmother passed away, my father took possession of Pepa's bells.  They were placed in a spot where they remained till my parents moved years later.  At that time, my father passed the bells to me, as he was trying to empty a house they lived in for 28 years.  When I got them home and opened them up, I struck a note and it resonated throughout the house. I remember when my son was about 6 years old and taking piano lessons I would let him play on them every now and them.  He was musically inclined and understood scales so he was pretty good at playing simple songs.
One day I decided to take him with me to the music center to buy a set of new mallets because I would get nervous when he played with Pepa's since they were nearly 100 years old and the only fragile part of the set.  When we went to the counter in the percussion section and explained the situation to the salesman, he found a set for me to buy.  He also asked if I would ever be kind enough to bring them by sometime because he would love to see them.  So a few weeks later I went back with the xylophone, and showed him the set.  He instantly recognized the set and turned over one of the keys to confirm the marking.  He said if I was ever willing to sell the set he would love to buy it.  They were made by one of the best manufacturer's in Chicago in the late 1890's, early 1900's and are quite valuable.  I explained to him the situation and he understood that I had no interest in selling them. He then asked if I would mind if he played a few songs and I said by all means. So he put two mallets in each hand (something I did not know you do) and started playing a beautiful tune. I'm sure Pepa heard it!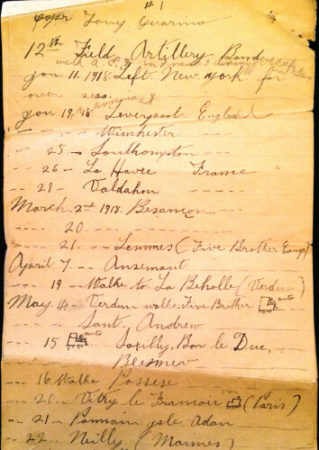 As I got older and started doing genealogy I learned a little more about Pepa's service through photographs I found. One showed him with a big bass drum and the drum skin had their mascot along with 12th Field artillery painted on it. It also had the names of the five battles they were in; Chateau Thierry, Argon Meuse, Soissons, Mont Blanc and St. Mihiel.  I had heard of a few of these battles in history class and knew they were some of the big battles of the war.  When my grandmother passed away I received a small box from my aunt that had some papers of my grandparents.  One of them was a list my grandfather kept of all the dates and cities he was in while he was enlisted during the war. A few years ago when I hit a brick wall in my research, I decided to Google every city and entry he had made and discovered the world of battles he was in.  The most important search hit was about Camp Five Brothers.   It was here that I found the diary kept by a fellow enlisted soldier from Indiana, who was in every city and battle my grandfather was in. This helped add all the details of victories, endless marches and even the fact that they were attacked with mustard gas.  I printed up all of this information and filled a three ring binder and presented it to my father. After going through it he said he always wondered why now understood. Pepa was as much of a soldier as he was a drummer and witnessed all of the horrors of war.
Finally on November 11, 1918 when the Allied forces defeated the Austrian-Hungarian Empire, and the war was over Pepa was able to finish up his time in Europe and come back home to New York City.  Soon, his younger brothers Salvatore and Philippi also came over to join their siblings. It had taken 14 years for them to be finally together again since they left Bisaquino to take part in the "American Dream" that they heard so much about! I love the sound the bells make, and every time a note is struck, I do wonder if Pepa can hear them!